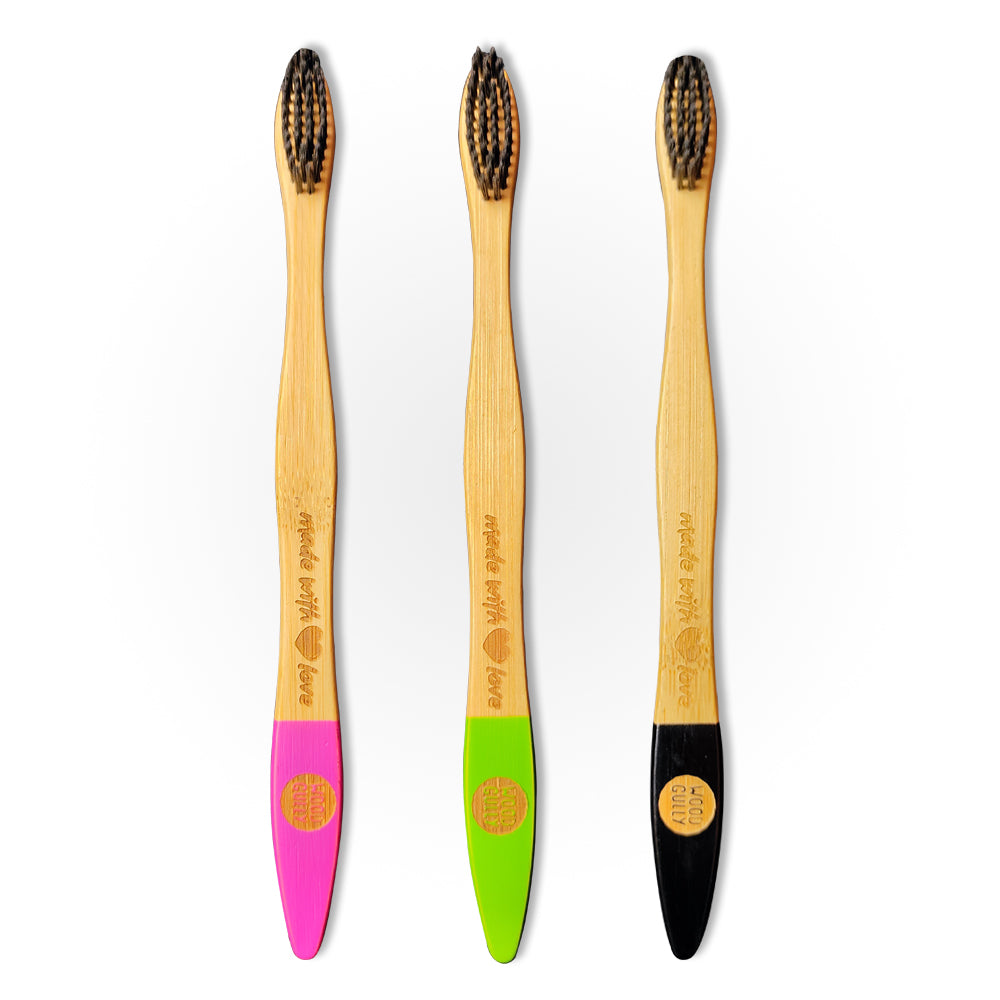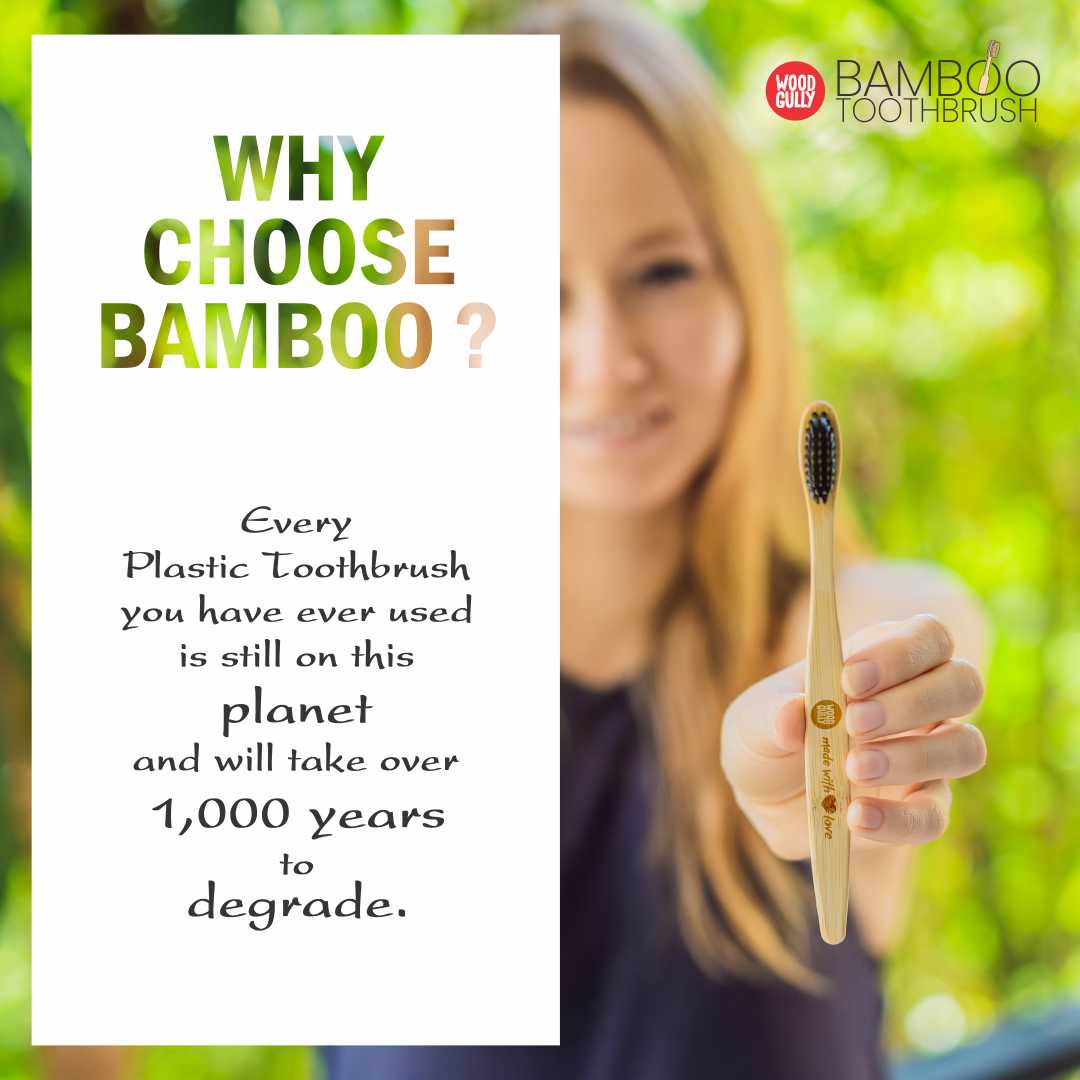 Wood Gully Organic Bamboo Toothbrush (Pack of 3)
Pick the right brush and make a Big difference !
Wood Gully's Bamboo brush with Eco Friendly handle and BPA free Soft Bristles.
A complete set of four brushes to encourage the entire family to make nature-friendly choices Ideal substitute for plastic brushes which are extremely bad for the environment.

Highlights
» Soft Bristles
» Organic Bamboo
» Compostable Packing
» Biodegradable Handle
» Lightweight & user-friendly
» Good for sensitive gums
» Aesthetically pleasing

Note : We recommend you rinse and dry your toothbrush after use to keep it clean.

» WATER RESISTENT - The bamboo is more durable and will not splinter.
» ECO FRIENDLY VEGAN PAPER BASED PACKAGING - The Wood Gully has eco friendly paper based vegan packaging, plastic free that made from recycled paper, its biodegradable and helps keep the earth green.
» BPA FREE SOFT BRISTLES - The bristles are soft for healthy gums and helps clean your mouth effectively.
» ANTIMICROBIAL - Bamboo can naturally kill bacteria and so is much better than plastic.
» SMOOTH NATURAL BAMBOO HANDLE - The Wood Gully toothbrush is made from high quality hardened ergonomic bamboo handle which is perfectly crafted to fit in your hand that helps in effortless cleaning of your mouth in a much better way.
» PERSONAL DESIGN FOR YOUR TOOTHBRUSH - You can personalized these identical toothbrushes, You can mark/write numbers or draw on them with pen.
» 4 PACK PLANT BASED BAMBOO TOOTHBRUSHES - The American Dental Association (ADA) recommends changing out your toothbrush every 3 months. It is a good idea to replace your toothbrush after getting over a illness. 
» Handle is Made from 100% biodegradable bamboo and hence eco-friendly
» Soft Nylon bristles for effective cleaning; gentle on enamel and gums
» Splinter-free handle with smooth edges for ease of use
» Efficient plaque and surface stain removal
» Free from the presence of harmful chemicals like BPA [bisphenol A, an industrial      » chemical that has been used to make certain plastics and resins since the 1950s.]
» Differentiator marks on the brush for easy identification

Package Contents : 3 Bamboo Toothbrush 

Estimated Order Processing Time: 
12 to 24 hours

Estimated Delivery Time: 
Metros: 1-6 days
Rest of India: 6-7 days

Please Note: Colours may slightly vary depending on your screen brightness.
Note : This product is Non-Exchangeable & Non-Refundable.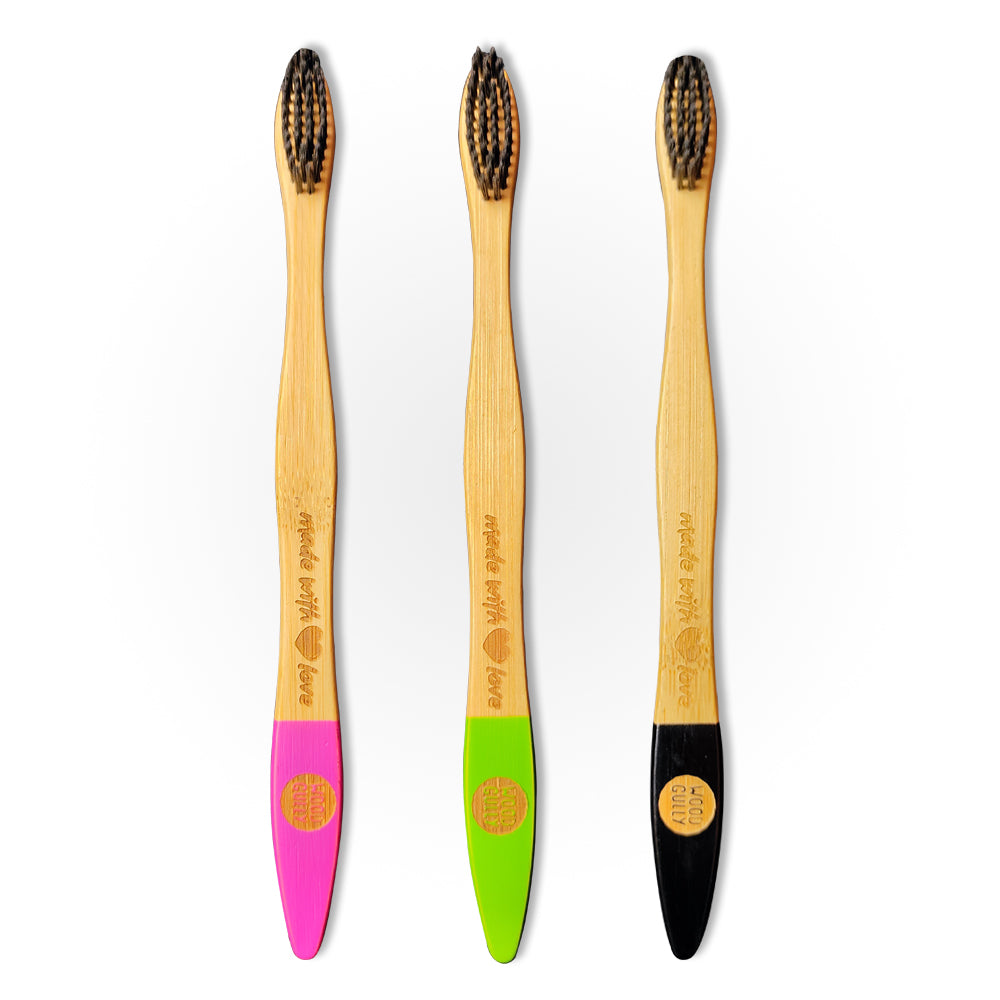 Why switch to
Bamboo Brush ?
Is the wooden handle water-proof?

Yes, you don't have to worry about getting your tooth-brush modly in water.

Wood used into the handle is 100% waterproof so you can enjoy your tooth-brush without any worries :)
What are the shipping timelines?

Once you book an order, we dispatch your package from our warehouse within 48 hours so it get delivered to you within 3-6 working days.
Can I return this product ?

We offer 7 days returns if you received a defective product.

You can read more here